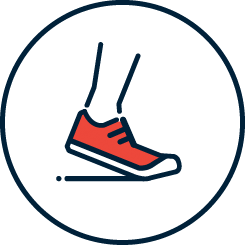 Our total team activity
133kms
FAREWELL OUR KENNY MARTO
On October 21st Dad passed away after fighting a tough battle over the last 4 Months. 
Dad suffered 8 Strokes that have been confirmed and completely stumped the Doctors and Professors as to what was causing them.
We can only remember the strong fearless man that dad was.
We're taking part in the Stroke Foundation's Stride4Stroke to help Fight Stroke!
In June this year, our family was rocked to the core after Dad (Kenny Marto) suffered a stroke. Dad has since suffered another 3 strokes, which have all affected him in different ways. He has had to learn to walk again, he is undergoing intense speech therapy and he has issues with his peripheral vision. He could be forgiven for wanting to give up, but Dad has fought back each time and been an absolute battler.
Dad has spent approximately 15 days home since the 18th of June, shuffling between hospital and rehab trying to work out the cause of his strokes and treating the damage each time another hits.
Sadly, 1 in 6 people will have a stroke in their lifetime. Stroke attacks the brain, the human control centre, changing lives in an instant. The impact of stroke can be devastating for the individual and the family. But stroke's impact doesn't need to be this great, research indicates that around 80 percent of strokes are preventable. So, I need your help to fight stroke. It's going to be a challenge, but it's nothing compared to those who are impacted by stroke.
Please sponsor me today to support me and together we can fight stroke! Your donation will help the Stroke Foundation support those affected right now and fund research to help prevent stroke, save lives and enhance recovery.
Thank you to our Sponsors Frances Bremner Jayne Bares Steve Wilson Alex And Darren Phil Taylor Zhefei Xu We Love You Matthew Wragg Alex & Jeff Jensen Geoff Spillane Emily-rose Holmes Emily Pfeffer Michelle Phillips Nancy Bravo Josip Bajlo Stacey Neill Jade Perosa Alex And Marcie Mojica Cassandra Windsor Samli Ozturk Susan Parrish Yosra Jason Centeno Nikki Sarah Lemin Emily Derix Bri Tennenbaum Sara Robinson Guido