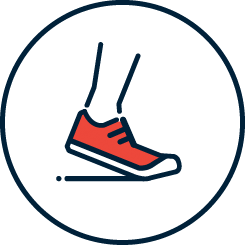 Our total team activity
2,248kms
We are a team of neuropsychologists, stroke researchers, and our families, who care about stroke and are taking part in the Stroke Foundation's Stride4Stroke to help Fight Stroke!
Sadly, 1 in 6 people will have a stroke in their lifetime.
Stroke attacks the brain - the human control centre, changing lives in an instant. The impact of stroke can be devastating for the individual and their family and friends. But there is hope: research indicates that around 80 percent of strokes are preventable.
So, we need your help to Fight Stroke. It's going to be a challenge, but it's nothing compared to those who are impacted by stroke. 
Across November, our team will be challenging ourselves to reach a target of 4 Million steps. Please support us by sponsoring our team today and donating to our page. Together we can Fight Stroke!
Your donation will help the Stroke Foundation support those affected right now and fund research to help prevent stroke, save lives and enhance recovery. Thank you.
Thank you to our Sponsors Maria Sharp The Fast And The Curious Cheryl Wong Mv Sharp Thegoodinn Pete Mct James Justin Westcott Silvia Dana Wong Tp Staff Greg Mcdonald Rene Stolwyk Helen Sharp Kerrilyn Savage-brennen Lynda Sharp Vanessa Sharp Robin Shanahan Josh Scotland Jennie Ponsford Storm Lahiff Teresina Costanzo Tracy Skinner Kirrily Wong Brenda Booth Carmen Reid David Lawson Maria & Bruno Colautti Tijana Mihaljcic Sharon M Peter Leviston Mel Presti Hayley And Murray Fleming Elle Mcnair Kirsten Camilleri Nicole Stefanac Joseph Wong Diana Ramirez Caroline Danielle Kenney Sue Bowden Lucy Ymer Cory Wasser Brendan Mclaren