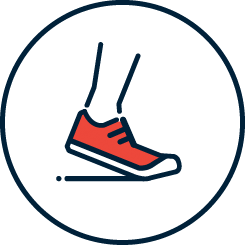 Our total team activity
100kms
We're taking part in the Stroke Foundation's Stride4Stroke to help Fight Stroke!
Stroke is something that very nearly took my life. Without research and advances in medical treatment I would not be alive today and if I was I wouldn't be without a disability.
I wouldn't have been able to come home to celebrate my sons 3rd birthday just 3 days after having my stroke. Stroke is personal and sadly these facts below are true. Stroke can effect anyone and we must fight to prevent it.
Sadly, 1 in 6 people will have a stroke in their lifetime.
Stroke attacks the brain- the human control centre, changing lives in an instant. The impact of stroke can be devastating for the individual and the family. But stroke's impact doesn't need to be this great, research indicates that around 80 percent of strokes are preventable.
So, we need your help to Fight Stroke. It's going to be a challenge, but it's nothing compared to those who are impacted by stroke. Please sponsor our team today to support us and together we can Fight Stroke!
Your donation will help the Stroke Foundation support those affected right now and fund research to help prevent stroke, save lives and enhance recovery. Thank you.
Thank you to our Sponsors Claire Crossfield Kate Comer Claire Crossfield Karen Williams Carol Burger Jackie Mibus Melissa Delaware Melissa Riordan Geoff And Erin Parker Carol Burger Shanna