My Updates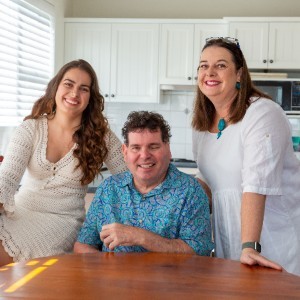 Don't Write Me Off Just Yet
I sat today with one of my Stroke wives talking about our husbands and the journey we have been on. 
We both reflected on where we have been, and how strong our men are. Little t, (named not because of her stature but because I'm the old one) reminded me that what we do now is not because it's fun, but because we have love.
I have the type of love with Mark that still makes my heart skip a beat and Mark's face lights up when he sees me. How fortunate I am to have experienced this love?
We are nearing our 13th year of dealing with the devastation that Stroke can do. 
Nearly 22 years really as the first one was only mild. 
Our journey has had many peaks and troughs.  It has come with celebrations, milestones, frustrations and grief. 
Celebrations 

 

- Birthdays, anniversaries, becoming a grandad, Watching his daughter grow up, Family and friends.

milestones - our trips - great ocean road and central and Western Australia. Car, Bus, Plane, boat, helicopter 

Frustrations - For Mark there, he would have to be the most patient man in the existence of the universe. For me, dealing with the red tape of lots of things and always feeling like I have to fight.

Grief - with every Stroke a piece of my husband is taken from me, a piece of Mark stolen away 
One thing that I won't do is wallow. Mark doesn't and I won't.  I sometimes wonder if I don't because I'm selfish and that's too hard to explain in a blog.
One of Mark's favourite movies is called Music and Lyrics, starring Hugh, Grant, and Drew Barrymore. It is often played in our house. 
I wonder whether Mark likes it because of one of the songs, "don't write me off"?
I think this is for both of us, Give me time to find my groove in this new role and give Mark time to heal. 
You know the drill - share, promote donate 
https://www.stride4stroke.org.au/fundraisers/TraceyLaverick1438
#strokesux #stride4stroke2023 #strokefoundation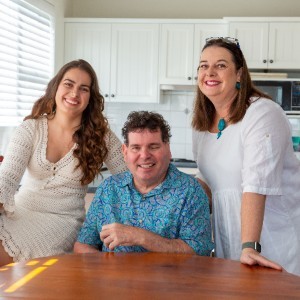 How are we doing?
So you're asking how we're doing?
Many of our friends and family are asking how we're doing? To be perfectly honest, we're not sure how to answer this.
For many reasons. 
Probably two of the main reasons are:
1.
In all honesty, our new day-to-day is something that we would never publish here. 
2.
We actually really aren't sure how we're doing. We are "winging it" from moment to moment.
Quite frankly, we aren't really sure where we are at for the moment, but it's really nice to have him home. 
Life isn't always about the negatives, and I hope that I do focus more on the positives because Mark always has and does. 
I'll list a few that we have :
1.
Friday afternoon after 18 days Mark was finally was allowed to come home. I have decided that my world is not right without him under the same roof. I was in bed Friday night I say by 8 pm - Sam thinks I was lucky to stay up until 730. 
2.
Mark is just the same as he was before. Yeah, another freaking Stroke may well have taken some of the physical side of him, but his cheeky nature has not been impacted in any way. Cognitively Mark is the same pre-Stroke as last.
3.
Our daughter Samantha has been a pretty awesome rock through all of this. She has reminded me that she is no longer a 10-year-old dealing with these changes in life. I must say I'm pretty proud of the 23-year-old, young lady, she is. 
4.
I'll never give up hope that Mark has potential to improve. Seriously, once I give that away, what do we have?
5.
After you spend any time at the hospital, you realise there is a lot of people that are really doing it tougher than you. 
So we will thank you for your support and love. We certainly know you'll understand we don't answer, reply or contact in a way that we would've previously. Know that we know you are all cheering us along.
Don't look at what I've achieved in my goals for the Stride4Stroke, I am pretty sure the result will be average. 
Regardless , I hope you're still support me in Stride4Stroke by raising awareness, funds and supporting me and my family.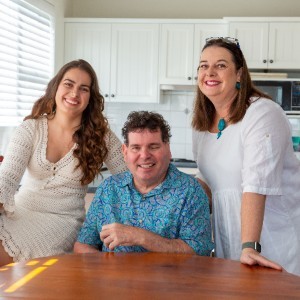 Well he failed the sitting test …
but hasn't lost his sense of humour. 
Obstacles keeping him from home:  
Equipment - change to Wheelchair, shower chair and different type of mattress. Sling hoist as opposed to his standing lifter.

Car transfers out of the question for now. 

training for his wonderful support workers in his new year gear
What's changed with Mark?
Sitting - his left side is still moving but it's weak. He's not like a rag doll. He just has a lean to the left which makes it unsafe for him to be in his wheelchair or any other sitting position.
What hasn't changed? 
His handsomeness (I'm possibly biased but hey humour me!)

His cheekiness 

His ability to win over all the nurses 

His cognition 

His love of fake bourbon (I've worked out how to thicken it) 

And not a frikkin grey hair to be seen!  
Mark takes all of this without skipping a beat something I'm grateful for. 
Me - well I think it's crapola with a big capital F! 
A new dance to learn for us. I'm pretty unco-ordinated but I have a team. A great team that'll coach me through. 
Ironically this is all happened while Stride4stroke is on. 
You know the drill… donate if you can, share if you will.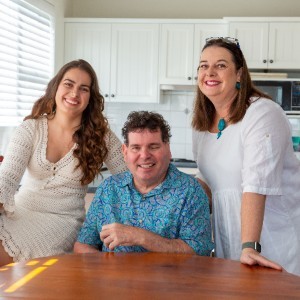 He might be happy, but I'm Angry
I cannot believe just days ago I wrote about Mark's happiness.
He is happy. He's still happy. 
I'm not. 
I'm angry. Pissed off actually. 
Mark has a beautiful nature. Jeez he's been thrown more challenges than most. He's had curve ball after curve ball thrown at him.  He keeps smiling and just getting on with it. 
Tuesday he copped another. 
I've talked before about the neurological episodes that he's had in the past. Some of these mean changes. Some of these changes are minor and don't last very long. 
Back to Tuesday - see I'm so angry I can't even stay on topic. 
Monday probably. 
I arrived home from my trip south to reports that he was showing signs of weakness. He was already in bed, but I went in to chat with him and see he was ok. "Just tired" he tells me. Stroke creates hideous fatigue. 
Tuesday he's still sleeping as he typically is as I head to work.  I leave with comments to his wonderful support workers to keep an eye on him and let me know if any issues. 
They ring. This is never good. 
I cry. I hate these calls. Jeez you'd think I'd be used to them by now. 
Head home to assess what's going on. 
He's still in bed as his amazing support worker can't get him up. "Up, up, up" he's telling me.  
"Well let's go I say."
My heart sinks as I watch him try to move his legs. "Up up up" he really wants to get up. 
We stop. I try to manhandle him to sitting up. He flops straight back down. Hmm, that's not right. 
Ok I'll pull him up and you grab his lifter I tell Sharon.   I get him up to sitting. If that's what you can call it. I sit on the bed on his left side to prop him up. He's falling to the left. 
No no no no no. 
This is his good side. 
Ok. Let's get the lifter in and see how he goes. Adjustments to bed to see if it'll help.  Sharon's amazing - she doesn't say "Trace, it's not the bed…" I need to hang on to hope.  She works with me on adjusting things. Physically I force mark into the lifter to stand. Well it's a more of floppy type of standing thing that's going to have him on the floor if I persist. 
Sigh. 
Ok, I need to make the ambulance call. I need to work out what is going on to work out how Mark can be supported. 
Fast forward to today, Thursday. 
Well the frikkin thief has struck again. The bitchest bitch that can't be happy with what they have already taken, but has to come back to steal from Mark again. 
It appears Mark's had another stroke.
Back to angry.  Yep I'm angry. I'm sad. 
I hate having to call his mum. I'm a mum. 
Whilst I am Mark's wife and partner I'm not his mum. Calling his mum sux. I hate delivering what I know is heart sinking shitty shitty news. I hate it. I'm angry that she's got to go through all these emotions again. 
Oh but I've got to tell Sam too. This one I procrastinated on. I edged around. She too is an old hand at this news. She takes it in her stride. Brave, practical and 'what do you need mum' Sam. At the same time I hear her heart break. She's angry too. 
As we sat together at the hospital yesterday we talked about how unfair this was. 
How come? Why does he need more? 
He's not contributed to any of this Sam points out. What about old mate in the bed across? He's whinging that he wants his smokes. "Mum, Dad didn't do this. He didn't make this happen. It's not fair. Why does it keep happening?" 
I don't know. I don't have words or answers. 
Neurologically this can be transient.
I could arrive at the hospital to find Mark's strength has improved. His balance is back and he's good to go like before. 
I'm still holding on to that hope. I won't give the thief that. If it can't take Mark's happiness, then it's not taking my hope. 
Today we will hang out together as the minutes turn into hours, waiting, as you need to in the hospital system, for assessment to see what deficits, if any, this thief has left behind. 
Please please don't be so cruel that you'll take more and keep it. Have some heart. You've had your fun - return it. Drop it back and we won't press charges. 
Help me raise awareness. Donate if you can. Share and help me raise awareness.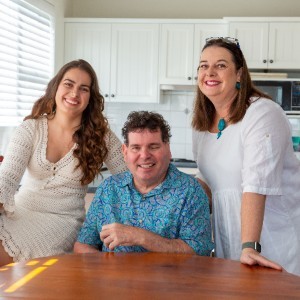 He's Happy - that'll be my standard reply
If you ask me "How's Mark doing?" - "happy"
Why? 
It's the easy answer for me and for the majority of you, although I know you all genuinely care, I don't think you'd want to hear the it any other way. 
In a couple of days it'll be 2 years to the last stroke that Mark went to hospital for. The one that stole away more of him.  More than any of you will probably ever know. Just when he was seeing his hard work paying off. He had started to gain strength, slept less and was starting to kick some independence goals -SLAP! I liken this all to a cat (stroke) playing with its prey (Mark). They let them just get far enough away that they think they are ok and have beaten it - then they pounce again. 
Mark has since then continued to have "episodes" - possibly strokes, maybe seizures - something that steals him away. 
Each time they steal a piece of my hope too but Like Mark, I refuse to lay down. Team Laverick will continue to fight!
Mark is happy. He is genuinely happy and his smile and joy he finds in life is what keeps me going. It keeps me wanting to fight and to raise awareness.
Stroke is a cruel cruel thing. It can rip away your core. It's stolen so much of Mark. His speech, his independence, his physical strength, but never his smile, his gorgeous nature, wicked sense of humour or his love. 
He is happy. Thank god. If he wasn't I don't think I could cope at all. 
I wrote this late November 2020.  March 2021 brought the stroke that took his sight from his left eye - yep on the other frikkin side! 
But again, he smiles, he gets up and keeps going. 
"He's Happy"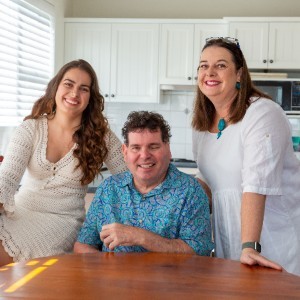 Ok I'll do it ... but no word of a lie it's hard
Here it is November.  Time for me to get into my fundraising mode, find my mojo for it & start raising stroke awareness.
I have to say I am struggling to do it this year.  
I am tired.
Stroke has been such a big part of our lives for what seems like such a long time.  21 years to be exact.
This year I thought, have I got it in me.?
Can I do it?
Can I write these posts that show you all extra parts of our lives, remind me of them and at the same time provide a therapeutic reflection of what has been, what has been achieved, the friendships we have made and the support that we have received from so many?
Well, you know what I am going to do my best.  I am definitely going to try.  If Mark can get up and try every day then I damn well can. 
So here I am.  Here's my first post.  This is the time that those of you that don't want to be bombarded by my continual posts to snooze me or defriend me.  For those that want to support me, travel with me, reflect with me, cheer with me, remind me of what has been achieved then buckle up & come along for the ride.
Stroke Sux - help me raise awareness.
So far I have helped Stroke Foundation deliver…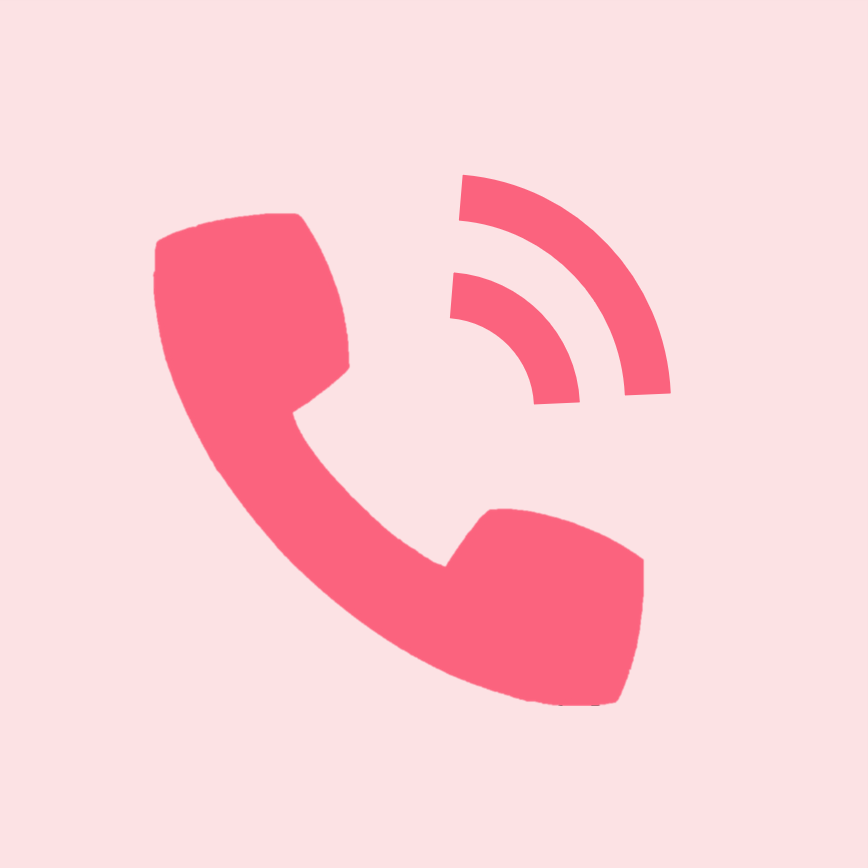 Advice and support from a health professional on StrokeLine
Stroke recovery packs to 3 survivors of stroke.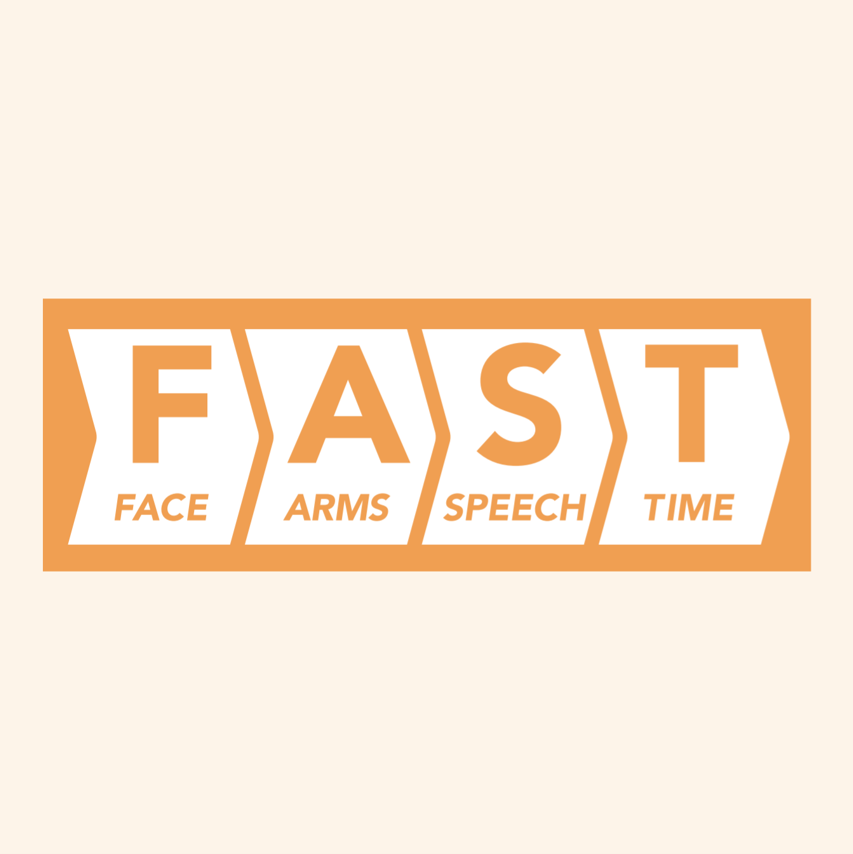 Training to a StrokeSafe volunteer to deliver community talks.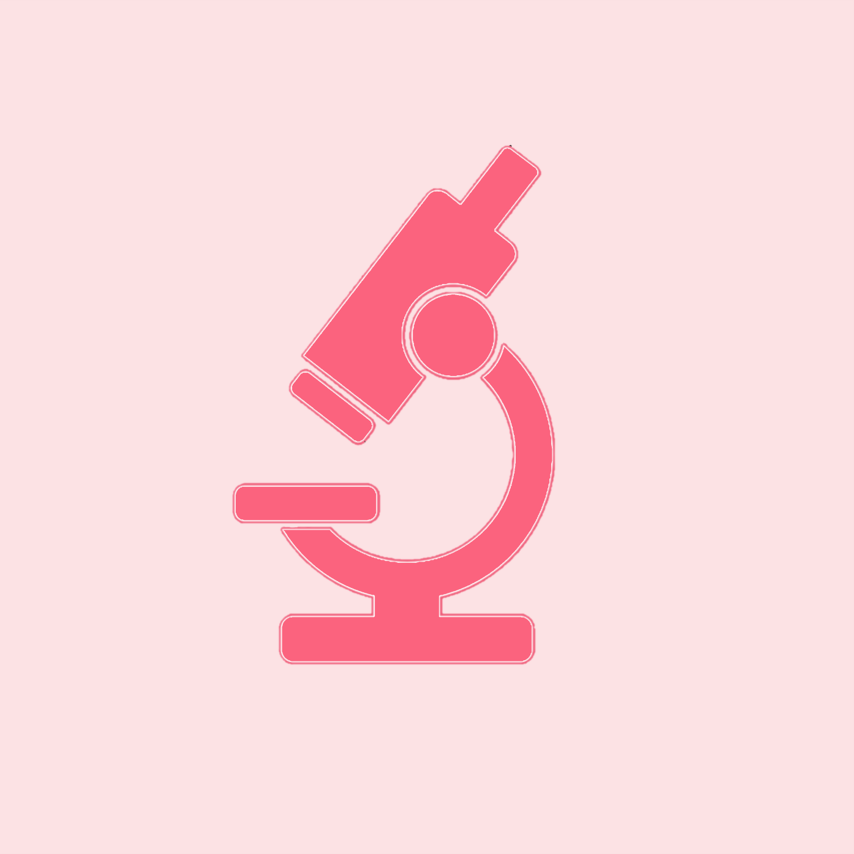 Funding to stroke researchers to find the next game-changer in stroke.
Thank you to my Sponsors Prue Salter Raylee Davies Selina Nichols Anonymous Anonymous Jen F Philippe Phan Helen B Pam Lawrence Marg Wand Dave And Tonya Thomas Valnea Mark Resevsky Marie B Guy Hawksworth Lynda & Mal Jennifer Mclaren Kylie Kelly Colleen Bryde Edmund Nyman Sarah Harvey Kris Kafer Anne Hellou Josslyn Harrower Wendy Blanchard Lorraine John & Karen Metcalfe Ann Massey Jacqui Welbourne Margaret Metcalfe Aj Mills Anonymous Jenny House Anne Tournay Belinda Beaumont Cass Barnett Anonymous Tracy Ward