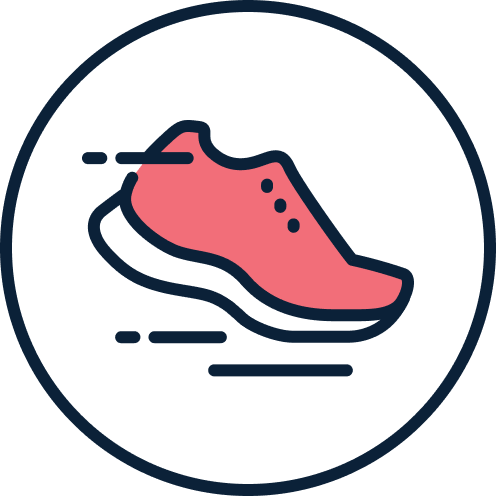 Minutes Moved:
1520 minutes
TWM STRIDE4STROKE 2021 EVENT TO FIGHT STROKE
Stroke is one of Australia's biggest killers and a leading cause of disability.
In Australia currently, 12% of people say they won't have exercised this week. One million strokes a year globally are linked to physical inactivity. One of the things we can do to reduce our risk of stroke, or secondary stroke, is to keep active.
The TWM STRIDE4STROKE event began last year when Dan's sister, Bec, had a stroke and he wanted to do something to raise stroke awareness and make a difference. Bec was 28 when she had her stroke and has since faced many battles - both mental and physical that many people wouldn't understand.
There are the major physical limitations that occur after a stroke but there are also many invisible side affects that we are not aware of.
We want more people to become educated in strokes, show greater kindness and empathy towards those who may seem a bit different - as quite often we have no idea what they have been through plus the common mental health battles that follow.
ABOUT THE EVENT
So this year the incredible Training With Mates Community will be reuniting on Saturday 6 November for the TWM STRIDE4STROKE FUN RUN, WALK or RIDE to raise awareness and vital funds for young stroke survivors and turning their 'invisible' daily issues visible.
You can run, walk, push or cycle any of the 7, 17, 21 and 28km distances in bright colours along the Kingston and Bayside coastline.
Please secure your ticket via this link: www.trybooking.com/BTJUE
If you wish to participate in the event please make a minimum $30 donation for the event which will give you access to a singlet, show bag plus an incredible morning!


ALSO - THIS YEARS COLOUR IS GREEN, SO MAKE SURE YOU IF YOU MISSED OUT ON A SINGLET YOU ARE IN A GREEN KIT!!!!
You can donate to any team member under the TWM STRIDE4STROKE 2021 page. All donations will roll into the team's tally.
If you can't attend but would like to get involved we would love your support in sharing the event, helping raise awareness and donating. Anything you can chip in is greatly appreciated.
ANYONE IS WELCOME
MORE INFORMATION TO COME
Thank you to our Sponsors Twm Stride4stroke Major Sponsors Anonymous The Sixth Principle Osteopathy By The Bay Jill Murphy Ellen Bowyer Cal & Em Ransom Better Feet And Body
Daniel Maitland Debbie Mctaggart Nikki Rasras Alex Langridge Anonymous Philip Lewis Ben & Lisa Simon
Lize & Adam Anna Donnelly Matt And Rach Debbie Mandel & Friends ( In Honour Of Judy's Birthday ) Pole & Aerial Divas Mornington Michael Zanca Cherryn Vicki Rowlands Isaac Tait Claire & Laurence
Roderick Neville Kerry Wearne Annette Chaitman Suzanne Ashley Dimmy Alevizos L And L. Kausman Anonymous Tom & Nerida Mcmahon Sean Macpherson Lucas Cook Robbie Anderton Alison Horton Tracey Dillon Sue Clifford Daniel Farmer Timoshenko Elyse Ed & Megan Allan Matt Zagni Michael Zanca Leslie Washington
Winnie Bagel Chris Harms Meg Vawdrey Lloydy & Peety Xx
Duane Miller Jen Barter Sam Chitty Darcy Brown Lewis Oliver Brenelec Amanda Oliver Kate Washington
Emile Tait Macquire Plumbing Jordan Wearne Wes Lian Jordan Mackenzie Stephen Campbell Sam Silvester Christina And Brad Colin Beeby Stuart Webster Michael Somerton Mitchell Bourne Vikki Octigan Matilda Anthony Carroll
Chris And Angie Downie Kate Quinn Beau & Maddie Hart Lauren & Nick Sinclair Clare Somerton Deborah Washington Jai Florent Anonymous Sophie Franklin Tom Nicholls Nikki & Taylor Caity Lewis Travis La Rocca Kim Myer Tim Chambers Mitch Brown & Georgia Torelli Michael Skaftouros Pamela Russ Cherie & Marco Sam Potts Gill S Shona Evans
Julie Crawford Madeleine De Amicis Rachel Franklin Miguel & Leah Frances Thea And Luke Pat Smith Chilo Anthony Selby Jordan Kinniburgh Vera & Maurie Hasen Jessie George Rowlands Donna Stevens Sarah Collett Olivia Pels Carla Phillips David And Nicole Grant Bianca Ryder Vince La Rocca Ron Johnson Drw Tiling Anonymous Ally & David Chris Beck Davis-degaris Family Phoebe Virtue + Zac Bradbury Keiffer Smith Cameron Sam Mcbain And Chloe Derrick Liam Coghlan Simon Cormie Matt Petering Tom Humphrey Mitchell Stoneman Will Edmonds Anonymous Bianca Clancy James Bourke Peter Monahan Sam Jackson Adam Mcloughlin Amy Knight Jade Smith-love Peter Fink Kendrick Ablis Hannah Radford Alysha Murton Grace Murton Jack Jansson Tania Watkins June Cooper Cody Thomas Stuart And Sarah Shannon Johnson Yazmin Higham Jack Harrison William Bardoel Jess Beaman Olivia Lockett Courtney Tracey Elissa Howard Debra Jolly Paul Santilli Sam Harrington Sth Carpentry Corey Lawton Jack Munro Aussie Alison Oldham Ryan Leslie Melissa Traynor Stef Miles Anonymous Tristan Strange Ben Humphrey Bill Anderson Ellen Reid Jodie Steeden Jack Prosser Stuart Anderaon Madeleine Borg Brooke Batten Robert Medin-doce Luke Chloe Virtue Ali Rowlands Lee Cormie Mitch Blood Lindsay Anderson Izzy Ross
Dale Robinson Olivia Watkins Jess Skaf Moni Isbister Josh Smith Daniel Russek Grace Hulls Any Paris & Luke Doubtfire Esperence Mitchell Eliana And Michael Angus Grant Warren Short Gordon Anderson Shane Gore Georgie Gore Craig & Mary Ross Elle Spencer Sue Gravina Anonymous Genevieve Moon Louise And Elyau Golshevsky Deanna Jolliffe Callum Strack Sue Salter Tot Books Meagan Love Soohie Virtue Angus Octigan Mitch Hoar Darcy Brown Cassandra Tulley Harry Spencer Patrick Franklin Deb Goodrich Patrick Utri Joshua Cowan Mitch Anwyl Anonymous Sarah Bailey Meaghan Zervaas Trish Soulsby Deb Whelehan Kyle Conlon Brannan Smith Taylor Banks Ally Palermo Joah Gorman Manfre Carly Sarah Davies L Sainsbury Ivy Ong William Carter B M Last Anonymous Sarah Ebbott Emma Shanahan Eliza Trigger Aly Greer Matt Dickie Marks Lily Smith Brydie Lonie Charlotte Kelly Sophie Rayside Georgie Marija Skukan Mia Washington Emily Cashion Jackie Gribben Sophie Griffiths And Luke Pinot Kate Gravins Madz Dyson Isabelle Hore Max Rothberg Lucas B Malcolm Gamble Tom Zallmann Warwick Stone Harrison Spencer Jess Trowsdale Amelia Brooks Nick Walliser Julia Smith Luke Holding Valeri Mellior Patricia Brendan Dawes Katie Comerford Nat Owen Leonard Laura Buckley Riley Maher Joel Mckee Katrina Young Vanessa Young Megan Tymko Bridget Mcbride Marion Wright Jordyn Edwards Helen Bourne Anonymous
Sammie Johnson Ciara Scott Anonymous Lachie Wigney Poppy Somerville Caitlin Farmer Jack Butland Mick Meehan Sharon Lowther Hannah Thomas Dean Mcguire Alex Cross Tilda Dodson Anonymous Bianca Malby-luke Steven Sharpe Michael Todd Paige Mignone Antonio Faamausili Beth Baylis Massey Parker Caileigh Nixon-graco Harry Austin Annie Garrick Sophie Durnan Paul Silberer Mia Mcculloch Anonymous Diana Kerr Austin Parker Sunita Akhil Connor Downie Tim Silvester Lucas Brooks Brad Kilgore Brandon De Zilva Ward Taylor Anonymous Jack Charnley Ryan Mcculloch Aimee La Rocca Soph Appel Aaron Vella Tahnee Streatfeild Cam Dawes Emma Nicholson Lucas Jones Maddy Chan Emilie Cutler Leigh Farmer Jenn Lin Anonymous Bian A Catherine Snell Anonymous Anonymous Paul Fink Anonymous Megan Ferguson Josh Ward Steven Bruce Pip A Jack And Lyn Borowski Doron Nadler Bronte Whiteley Tara Samara Harris Jarryd Linehan Mitchell Woods Natalie Batten Sharon Ericksen Ashleigh Hazell Adam Wiser Emily-kate Murphy