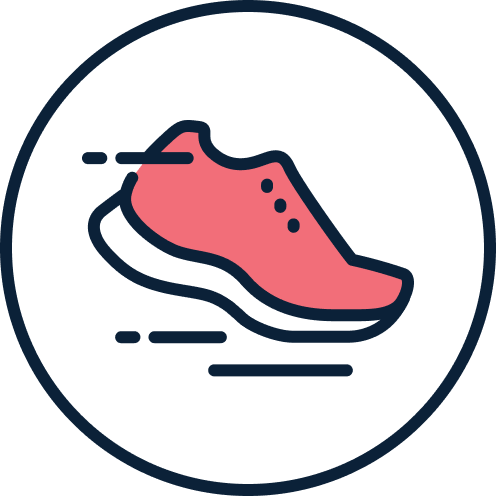 Minutes Moved:
13836 minutes
Pezet Pacers are on the move!
The Pezet Pacers have made a cracking start to their fundraising campaign this November!
We are just $56 off our goal fundraising target and it's only Day 3. What can we say...? We are blown away by the support you guys have shown us and you are helping to motivate us all. After revising our goal a couple of times already, we are on the verge of perhaps revising once more. We will keep you updated.
From cycling to water aerobics, netball, pilates, running, and more our crew is getting active to raise awareness and funds for the Stroke Foundation.
Your support is very much appreciated and welcome. After stroke has hit our family four times,  we are all too aware of the impact it makes not only those affected but also their families and loved ones. Stroke is a leading cause of disability and this is one aspect we have been thrown into this year as our Mum is learning to come to terms with the effects she is left with after her stroke.

Once again, we thank you all so very much and look forward to hitting our goals for the Stroke Foundation.

Pezet Pacers

Our team is taking part in Stride4Stroke to help prevent, treat and beat stroke!
Stroke is one of Australia's biggest killers and a leading cause of disability. It attacks the brain, the human control centre, changing lives in an instant.
In Australia currently, 12% of people say they won't have exercised this week. One million strokes a year globally are linked to physical inactivity. One of the things we can do to reduce our risk of stroke, or secondary stroke, is to keep active.
So this November our team is taking part in Stride4Stroke to raise vital funds and awareness for Stroke Foundation.
Stroke Foundation is committed to raising community awareness about stroke and stroke prevention, advocating for increased access to specialised stroke treatment and rehabilitation care, and supporting research into innovative treatments for the benefit of all Australians.
Please join us in our fight against stroke today by donating and helping share our story.
Thank you in advance.
Thank you to our Sponsors David And Melissa Russell Anonymous Andy Mulcahy
Wauchope Vets Jennifer Pezet Lully Daniel Styles Daniel Paynter Khpe Pty Ltd The Gnl Bois Anonymous Brent Morrissy Cliff Killeen Tay Anonymous Brent Ambrosini Wards Anonymous Kim Wilson Anonymous
Alan & Toni Bressan Fiona & Tim Ludgate Tyson Christ Aaron Thurecht Anthony Dack Catherine And Lou Lussini Juanos John Lethbridge Garry Stephensen Sherri Taylor Iain Riccardi Alex & Kristy Sparrow Keith Page Mike Clark Paul And Judy Acutt Shirley Caldwell Megan Philp Tanya Ambrosini Anonymous Carolyn Drynan Nicky Parker Linda Oates Sue Hetherington Madison Barbara Raja Devine Buster Molan Kaity Britten Anonymous Brenton Flynn Rhys Malcon Joan Johansson Nikki And Nathan Wood Phyllis Kallquist Kaity Britten Jake Lacy Anonymous Ali Laws Bianca Hetherington Gibbo Michelle Challes Mark Pezet Suzie Pedersen Nick Allitt Grub Josh And Steph :) Anonymous Kaitlin Smith Tara Hartnell Lindsay Chicken Paul Hodgkins Jack Putica Chris & Sue Zahl Terry Duggan Jeanelle Everitt Nicole Bedwell Cyd Green Ash Pezet Josh Toner Ellen Bryce Philpott Sean Danaher Amanda Rynne James Coventon Helen Ashley Cowey Alan & Cherylee Torrisi Keelan Connor Kara Hayden-brooks Rebecca Dack Anonymous Holly Lambert Greg Leo Amy Roughan Breanna Praed Mod Ambrosini Isobel Boughton Jenny Dellit Kat & Noddy Anonymous Rebecca Judd Kate Iliev Nicole Sullivan
Janelle Champney Trevor Pezet Mike Clark Trevor Pezet Kelly Mcdonald Karly Green Phil Tony Holznagel Karen Parker Meg Veness Jayme Frost Lucy De Laurence Tim Grevell Christine Lee Claire Duggan Trent Verrender Susan Mayne Valerie Partridge Amy Avery Nina Parker Tracey Godfrey Anne-marie Newman John Styles Luke Stephensen Kylie Tobin Karen Thompson Rodney Stuckey
Billie Marshall Carla Clarke Powerhouse Air Conditioning & Electrical Jess Baartz Sharleen Chilvers Mark Pezet John And Lynn Masters Jamie Bryant Anonymous Hewittville Pty Ltd Myles Petersen Donna Thomas Katie Duggan Jess Lindsay Daniel Pezet Sue Long Casey Tidd Emily Crowther
Emily Styles Erynh Mcphee Bianca Hetherington Janelle Anderson Nic David Holder Lisa Mckay Glenda Haig Alex Strachan Geraldine Champney Kayleen Hicks Susan Harvey Ben Manuela Chesher Shane White Annette Kane Thomas Steyger Helene Johnson Aaron Goder John And Connie Mcfadyen Greg Gartrell Red Rope Efthimia Voulcaris Melissa Jones Anonymous Annabel Cox Debra Britten Kaitlyn Powell Anonymous Kate Armstrong Rachel Lavery Susan Boon Lisa Marilyn Twomey Cynthia Budge Bob Platt Joy Champney Steph Ahern Robin Stagg School Friend.. World's Best Physio Narelle Peacock Anonymous Sue Mcdonald Leah Merrick Stephanie Zipf Brooke & Lance Glover Anonymous Anonymous Thelma Scholz Anonymous Anonymous Anonymous Anonymous Anonymous Anonymous Anonymous Sam Campbell Foz Julien Eliza Champney