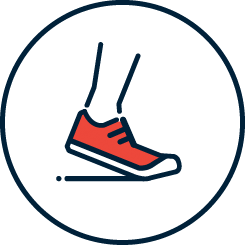 Our total team activity
439kms
We're taking part in the Stroke Foundation's Stride4Stroke to help Fight Stroke!
Sadly, kids have strokes too, even in utero. 
Little Stroke Warriors is a community organisation that support families affected by childhood stroke. 
Just like adults stroke attacks the brain- the human control centre, changing lives in an instant. The impact of stroke can be devastating for the individual and the family.
Currently there are little to no resources for families who are affected by stroke and we are working together with the Stroke Foundation to develop Our Family's Stroke Journey a booklet that provides a pathway from diagnosis and helps families to navigate their childs recovery.
Children affected by stroke suffer lifelong challenges such as cerebral palsy, seizures, difficulty regulating emotion as well as language disorders and some tragically go on to have further strokes. 
So, we need your help to Fight Childhood Stroke. It's going to be a challenge, but it's nothing compared to our Little Stroke Warriors who are impacted by stroke. Please sponsor our team today to support us and together we can develop this much needed resource!
Your donation will help the Stroke Foundation support our children and future child stroke survivors and their families. There is no amount too small, every little bit counts. 
Thank you for supporting our Little Stroke Warriors. 
Thank you to our Sponsors Nana And Grumpy Sharples Kayla Tope
Beau Weir Kelly Sharples Jess Honeychurch Kylie Facer Dylan Sloman Janine & Andrew Allen Maureen Waddington Laura, Cliff And Abby Wood Emily Simpson Zelma Bale Deborah Senior Siobhan Mcginniss
Tim & Syl Casey Holmes Kiara Maieron Karissa Burns Kate, Mick, Chloe And Ben Pulley Family Lisa Fodero Thomas Sharples Wilma Sharples Alex Spiers Bec, Boeh And Nyah Davies Sophie Witt Tracy Ward Bailey And Toby Kennedy Belinda Eddy Kirsten Steve And Annie Hogan The Price Family Satoko Muslu Omine Amy Whykes Jl X Dionne Coghlan Diana Kerr Annie Banks Family Josh Kors Marni Silverwood Christy Luong Michelle Adamson Emma Hogan Monica Cullen Chris Lassig Janette Grant Shannon Swansson Margaret Cesnick Jude Czerenkowski Suellen Scutter Juliette Amors'nt Sevim Ozkan Samantha Atkinson Caroline Rhodes Amy Plowman Nicky Leitch Naomi Le Get Rosie O'keeffe Liz Gallagher Sarah Fowlie Jeanette Brooks Brenda Booth Brenda Booth Tennille White Emily Granland Kylie Hunter Deb Sochackyj Jenni O'neill Sonia Czerenkowski Sheryn Hunt Shae Spry Priya Sharma Jody-lee Hankey Priya Sharma Anonymous