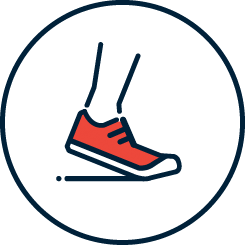 Our total team activity
2,109kms
Striding in November for Timmy
Stride for Stroke is the Stroke Foundation's signature event, where in the month of November they encourage the Stroke community to get active and help prevent, treat, and beat stroke.  
If you walk to work, stride around parks on weekends, skip across the beaches or coastline, you can help and we'd love your continued support!  Activities are individual efforts and are measured via your own digital device (fitbit, health monitor, or mobile app), but we hope push yourself for a few extra healthy steps in November.  
Based on timing we may try to organise a larger group walk/stride in Sydney & Canberra to pick up the pace, TBD! 
We hope that you think of Timmy along those strides, reflect on his own journey, and remember our goal for research and providing resources for Young Adult Stroke Survivors. 
We're taking part in the Stroke Foundation's Stride4Stroke to help Fight Stroke!
Sadly, 1 in 6 people will have a stroke in their lifetime.
Stroke attacks the brain- the human control centre, changing lives in an instant. The impact of stroke can be devastating for the individual and the family. But stroke's impact doesn't need to be this great, research indicates that around 80 percent of strokes are preventable.
So, we need your help to Fight Stroke. It's going to be a challenge, but it's nothing compared to those who are impacted by stroke. Please sponsor our team today to support us and together we can Fight Stroke!
Your donation will help the Stroke Foundation support those affected right now and fund research to help prevent stroke, save lives and enhance recovery. Thank you.
Thank you to our Sponsors Bruce Glendinning Brad Howell Mitch Wieland Liz And Alex Mcpherson Tom Maher Grant Warner Bik Ray Jasonnesbitt Julian Davidge Rachel Mclennan Amanda King Jocelyn Glendinning Sid Abby Pip Drury Jacquelyn Cowardin Matthew Glendinning Shane Dorman Shelley White Laura Glendinning Toa Suluka Tim Phelan G Lee Charles Heffernan Craig Meyerowitz Bunna Tang Rich Evans Steve Cario Kim Rawson Jimmy Helliwell Oliver Temperton Bruce Mclennan Shane Dolan