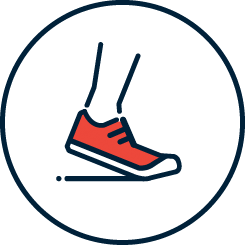 Our total team activity
2,851kms
Nearly half way
Engadine Rural Fire Service
Between us we have pledged to collectively walk / run / ride / swim 1,900km in November. By yesterday we had clocked up 1,039km. 
So far, we have collected $2,637 of our $3,000 fundraising goal, please help us reach our goal if you can. An enormous thank you to those who have sponsored us so far, you have made some super generous donations.
We're taking part in the Stroke Foundation's Stride4Stroke to help Fight Stroke!
Sadly, 1 in 6 people will have a stroke in their lifetime.
Stroke attacks the brain- the human control centre, changing lives in an instant. The impact of stroke can be devastating for the individual and the family. But stroke's impact doesn't need to be this great, research indicates that around 80 percent of strokes are preventable.
So, we need your help to Fight Stroke. It's going to be a challenge, but it's nothing compared to those who are impacted by stroke. Please sponsor our team today to support us and together we can Fight Stroke!
Your donation will help the Stroke Foundation support those affected right now and fund research to help prevent stroke, save lives and enhance recovery. Thank you.
Thank you to our Sponsors Samuel Corby Quentin Field Gail Sadleir Gail Sadleir Ryan Joyce Jo, Izy & Zaza Brown Susie Corby Kevin Corby Chris Corby Simeon Bartholomew Marnie & Papa Mum & Dad James Bates Lana Rae Ian Johnston Lisa Laybutt Caroline Stewart Mark Henson Susie Corby Cathy Lowder Ray Vaughan Patrick Tuffy Dave Marchant Lenell Fox Victoria Black Kate Sadleir Allenby Matthew Norris Lorraine Bradley Caroline Molloy Greg Langton Kim Langton Scott Edmonds Paul Mastronardi Anonymous Benn Sadleir Catherine Mclennan Fran Janet O'mara
Ingrid Anne Marie Hyland Lauren Vaux
Marie Thorn-clarke Magda Chambers Hayley Walton Deborah Sharp Nadene Skelcher Penny Buchan Pip Wells Steve Winter Fiona And Gordon Provan Duncan Gardner Curtis Leman Riley Langton Kellee Purcell Wade & Eboni Cattley Anonymous Rebecca Day Nikki Enright Anonymous Philip Spearman Samuel Corby Samuel Corby Kerry Martin Anonymous Lilly Pollard Sinead Mcgorm Vanessa Cavell Cindy Price Michelle Speakman Anonymous Emma Jolley Matt Murphy Debbie Bakhos Deniz Erer