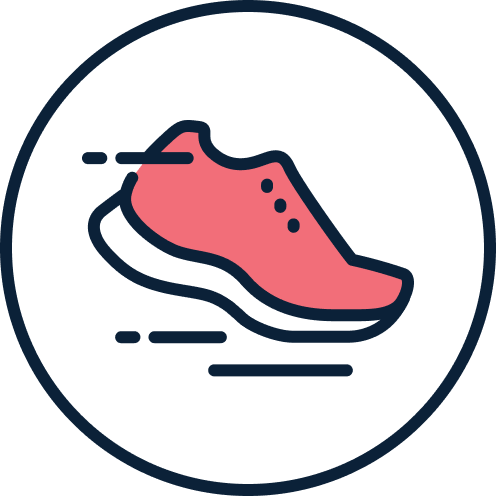 Minutes Moved:
29275 minutes
Thank you to Lorraine & Doublescent!
Huge thank you to Lorraine and Doublescent for their incredible job at raising such an amount!!  Your generosity in donating from your candles "Life's A Beach" has just proved the angels that you are your family are. 
Bringing us to almost $6000, I have upped our target again - keep up the great work everybody. Can't wait to get moving in November. 
New Target!!
With everyone doing such an amazing job and getting so close to our target - it only makes sense to increase our goal! 
$6000 is our new goal - lets smash it!
Our Stroke Team at Box Hill Hospital is taking part in Stride4Stroke to help prevent, treat and beat stroke!
Stroke is one of Australia's biggest killers and a leading cause of disability. It attacks the brain, the human control center, changing lives in an instant - and we see this first hand every single day at work.
Physical inactivity is a huge risk factor, linked to one million strokes a year around the world.  One of the things we can do to reduce our risk of stroke, or secondary stroke, is to keep active.
This November our team is taking part in Stride4Stroke, to raise funds and awareness for the Stroke Foundation.
Community awareness and stroke prevention is one of the Stroke Foundations biggest goals, aiming for increased access and specialisation to stroke treatment - just like our Acute Stroke Unit and rehabs across the suburbs.
We would love for you to join us by either donating to our page, participating in conversations about stroke with your family and friends, or just looking after yourself and getting moving this November!
Thank you to our Sponsors Doublescent Andre Riha Verna Ortiz Team Noble Michael Sukkar Dowsett Family Fi Claire Murphy Daniel Wein Peter Park Susie Edward And Elizabeth Cohen Trevor &lisa Scott Anonymous
Chloe Dang-le Meur Pepito Rimando Jasmina Behlic Tim And Steph Gail Buchanan Vignesh Shanmugapalan Anonymous Rebecca Frost Steph Andrews Kirsty & Sam Amanda, Mat & Harvey Daniel Fraser Dianne Thomdon Sandra Sdraulig Winnie Liam Nixon Mavis Bruce
Judi Boothroyd Josh Rankin Mil & Baz Caroltanya Frost Marie Ramirez Glenys Curry Alicia Lawrence Ambrose Cornelio Arelie Solano Bryan Rossi Ambili Varghese Winstina Dsouza Christian Buckley Pessos Jacinta Moran Adrianna Selvadurai Rebecca Cohen Kylie Johnston Li Yann Grace Cara Adamopoulos Frauke Matschoss Elle Mcdonald Adam Patrick Michael And Kay Mcnamara Cassy Warner Kyrstie Alice Jolly Felicia Haryanto Lisa Brownbill Anonymous Krissy John Mercieca Megan Rossi Kimberley Rossi Neil Jacobs Karen Boreham Ken Setiawan Matt Turner Paul Ka Shing (stan) Ho Sheena Shibu Wilson D'souza Melanie Woolhouse The Carafillis's Tessa Busch Anonymous Sam Anonymous Anna Symes Agnel Vaz Loreena D'silva Vicky Burgio Garnetts Sandy Jackson Nicola Vague Helen Gardner Cassie Cohen Loida Solano
Michelle Renda Lauren Harrison Alison Curl Ema Rivera Pakeeran Siriratnam M And P Fraser Richard Saldanha Halina Hassard Linda Lawrence Careen Fernandes Kristine Mesa Gregor Buchanan Jane Kent Winslet Dsouza Sarah Jane Pollock Tommy Two-shoes Reena Veigas Sue Thierbach John Sguerzi Katie Carstairs Emily Mia And Buddy Kat White Mindy Dang Brittany Mcnamara Jo Black Sachin D'souza Wayne Allan Jones Monika P Claire Natalie Cogo Bek Deborah Rossi Lillian Manolopoulos Logan Pollard Veronica Jeremiah Anne Medhurst Lauren Jones Wade Berry Jacqui Dicintio Susan Farthing Belinda Mcredmond Pete T Michelle Dang Nicole Andrews Lisa Hills Sally Ley Tim Da Silveira James Mathews Laura Nat Cogo Dmac Jordan Patternott Philippa Leech Aimee T Annie Wang Tee Fraser Charlotte Bethany Kirk Anonymous Jess B Shelley Kim Leanne Delgado Widdison Elsa/lionel Vivar Zoi Timtam Simone Russell Jonathan Bortolotto Royal Castellino Jenny Hoegh Phoebe Lyons Lorraine Mcdonald Elise Boreham Valda Glover Cheryl Longstaff Taylah Sievers Monica Deasey
Shannon Daisy Solano Laura Marsh Diane Taylor Georgia Emily Harbrow Mei Yang Surina Viena Domingo Ian Reidsimmons Anonymous Anonymous Di & Steve Patrick Stephen Pendrey Sally Ward Jackie Anonymous Georgia Mayne Sallyanne Glover Kim Munro Louise Corben Emma Fraser Skye Coote Sigourney Taylor Judy Mackenzie Mariah Fisk Sam Carroll Jason Pinto Karyn Raits Dean Barker
Alex Curl Jenny Cottrell Julia Curl Dianne Measom Lee Decker Cassie Silva Michael Angerame Bailey Mcnamara Karen Smythe Katherine Scott Sig Tee Fraser Tee Fraser Tee Fraser Tee Fraser Miriam Salalila Ally Pardy Gary Sedgwick Bailey Mcnamara Anonymous