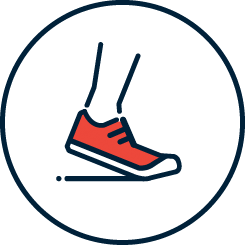 Our total team activity
304kms
We're taking part in the Stroke Foundation's Stride4Stroke to help Fight Stroke!
We are dedicating our Stride for Stroke to our dearly missed husband and dad. Dave had a stroke in April 2018 and unfortunately passed away 2 weeks later.
Sadly, 1 in 6 people will have a stroke in their lifetime.
Stroke attacks the brain- the human control centre, changing lives in an instant. The impact of stroke can be devastating for the individual and the family. But stroke's impact doesn't need to be this great, research indicates that around 80 percent of strokes are preventable.
So, we need your help to Fight Stroke. It's going to be a challenge, but it's nothing compared to those who are impacted by stroke. Please sponsor our team today to support us and together we can Fight Stroke!
Your donation will help the Stroke Foundation support those affected right now and fund research to help prevent stroke, save lives and enhance recovery. Thank you.
Thank you to our Sponsors June And Ian Allan Mignon And Don Chapman Jane Lawless Anonymous Pauline Dijanic Amy Cussen Jaden Allan Manisha Solomons C C & T T Jones David Browne Jack Chiodo Allanah Searles Dylan Marley Rich, Jan, Steph And Ben Whyte Daniel Allan Ben Meyer Elise Pound Chris Carruthers Richard & Helene Allanr Jasmine Chapman Niema Allan Kathleen Botterill The Allrocks Mr G David And Carmel Sheridan Melissa And Michael Fairlie Andy Bentley Andrew, Carley, Ava & Mia Roberts Brooke Chapman Lola Jennings-edquist Theodore Argyrakakis Yasas Siriwardene Simon & Nicole Hannah Kennedy Nicole & Michael Deville Rachel Kunek Liz Allan Pauline Crocker Emily Calache David Scarborough Tammy Fumazoni Eliza Chancellor Ann-marie Mackay Cathy Hunter Bella Whitton Sam Venn Michael Bodnarcuk Pina & Allanah Searles Melissa Antoniuk Lisa Crocker Penny Adam Melissa, Shawn And Evelyn Barnard Riley Cridge Matthew Verrocchi Thomas Ryan Anonymous Laura Elliott Bridie Woodward Terry Rogers Mark Oudshoorn Carmel And Graham Blight Katie Lanigan Adriana Diguilmi James Galli Samanths Searles Anonymous Caitlin I Niema Allan