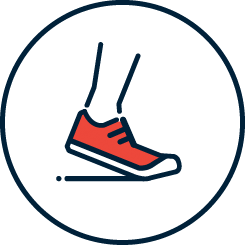 Our total team activity
1,059kms
I'm taking part in the Stroke Foundation's Stride4Stroke to help Fight Stroke!
Sadly, 1 in 6 people will have a stroke in their lifetime - my younger sister was one of them at the age of 24. 
Luckily, she was able to receive life-saving medication and made a full recovery. 18 months on you'd never know, life is back to normal and she's recently had her final specialist's appointments. We couldn't have made it through those first few months without the support of the Stroke Foundation. 
Stroke attacks the brain- the human control centre, changing lives in an instant. The impact of stroke can be devastating for the individual and the family. But stroke's impact doesn't need to be this great, research indicates that around 80 percent of strokes are preventable.
So, we need your help to Fight Stroke. It's going to be a challenge, but it's nothing compared to those who are impacted by stroke. Please sponsor our team today to support us and together we can Fight Stroke!
Your donation will help the Stroke Foundation support those affected right now and fund research to help prevent stroke, save lives and enhance recovery. 
Thank you!
Thank you to our Sponsors Belinda Farmer Caitlin T Kate Landsberg Anonymous Mandy Macdonald Terry Urquhart Terry And Mary Urquhart Bree Bree S Patricia Ainge Kinsey Pattison Beatrice Wilson Angela And Brad Aliyah Heemann Jaimie Meddings Megan Gunton Michael Wheldon Tegan Hogan-smith Stephanie Roberts Eli Rolfe Laura Beveridge Bronwyn Beveridge Deb Thorogood Duncan Matheson Jason Bennett Bronwyn Madsen Cara Griffin Jessica Carroll Claire Pilcher Christine Hannah Anonymous Belinda Mcnabb Joan Lyon Matthew Taylor Gloria Kiuk Rhi Mona-lisa Lohia Amy Farmer Anonymous Anonymous Rachael Urquhart Margaret Silke Josh Gunton Bhavna Ram Jenny Kennedy Janeen Williams Donna Mcdonaugh Yvonne Barrett Emily Griebenow Jayne Cuddihy Lewis Carroll Sharon Beveridge Robert Gilchrist Jacquie Brook Susan Ainge Nicole Donaldson Kerrina Corrigan Helen Adams Michelle Sarah Mcdonaugh Caitlin Taylor Simon Kolanowski Tara D Donette Griffin Vanessa Liesbet Corselis Liesbet Corselis Brigitte Mckaskill Christine Hannah Cherie P David J Barrett Lyndal Barrett Tracy Bagley Lona Wilson Kevin Travers-jones Terry Bergman Errol And Ailsa Davy Chris Dickinson Fairlie Sandilands Katrina Wust Lisa Daniel Grace Rhiannon Dini Trish Loveday Anonymous Rach Saunders Suzanne Ayris Mckeever Family Allison Byrnes
Jodie C Rene Kruger Kylie Stark