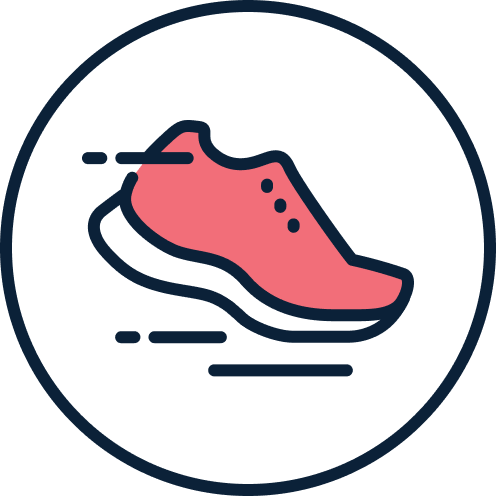 Minutes Moved:
1675 minutes
Our team is taking part in Stride4Stroke to help prevent, treat and beat stroke for our Dad!
On the 16th of March this year, our Dad suffered a Stroke, which changed his life and our family's lives very quickly. 
We had no experience or understanding of Stroke and it was a complete shock for us to see our larger than life father in the state that he was.
On reflection, we know that Dad was one of the lucky ones but in March this year it didn't feel that way. Dad was suddenly unable to walk, eat solid food and drink, feed himself, speak properly, shower or look after himself. As you can imagine this was seriously devastating for our family. We had never seen our big, strong, independent and happy go lucky father like this before.
Dad was INCREDIBLY lucky to be transferred from Swan Hill hospital to Bendigo within a week of his Stroke (once a bed was found for him). He was even more fortunate to be admitted to a Rehab unit with totally committed and devoted staff for 6 weeks.
Due to the unwavering efforts of the nurses, doctors, OTs, Speech Pathologists and Physiotherapists, Dad was able to leave hospital in a significantly different condition than he arrived i.e. walking on his own with a walker, eating solids, drinking liquids without thickener, speaking clearly, showering, completing self-care on his own, being able to balance and the list goes on.
While Dad was beyond excited to get back home to Tooleybuc, there had to be serious changes made to our family home to support Dad's continued recovery and the immeasurable impact that Stroke had made on his life.
Despite Dad progressing in leaps and bounds and being committed to his ongoing exercises and tasks for his physical and neurological health, his life had significantly changed.
We are so fortunate to have an amazing immediate and extended family who have all played a HUGE role in Dad's recovery and Stroke journey. From frequent hospital visits to Bendigo from Melbourne, Gippsland and Tooleybuc, shaving his beard and cutting his hair, accompanying and challenging him on his daily walks, to buying him non-alcoholic beers and helping him remain the positive and social man that he is, he couldn't have done it without them all!
We are so proud of him and his commitment to his recovery. He is an incredibly optimistic and determined man and this attitude has helped him and the rest of us have so much gratitude for him recovering to the extent that he has!
We are doing Stride4Stroke for our Dad, Paul Scalora, and all the other victims of Stroke and their families.
Stroke is one of Australia's biggest killers and a leading cause of disability. It attacks the brain, the human control centre, changing lives in an instant.
In Australia currently, 12% of people say they won't have exercised this week. One million strokes a year globally are linked to physical inactivity. One of the things we can do to reduce our risk of stroke, or secondary stroke, is to keep active.
So this November our team is taking part in Stride4Stroke to raise vital funds and awareness for Stroke Foundation.
Stroke Foundation is committed to raising community awareness about stroke and stroke prevention, advocating for increased access to specialised stroke treatment and rehabilitation care, and supporting research into innovative treatments for the benefit of all Australians.
Please join us in our fight against stroke today by donating and helping share our story.
Thank you in advance,
Grace and Carmelina x
Thank you to our Sponsors Paul And Tina Scalora Grace Scalora Gary Cutri Sam, Sandra & Crew Scalora Kristy Scalora Francesca Bulzomi Tony And Melina Cathy Jamshidi Anonymous Nella Marx Deanne Dacey Nik Pell Carmelina Pell Rick Pell Lisa P Craig Simpson Vin Ryan Jade G Frank & Donna Sabrina Crosbie Sue Kerlin Anonymous Jennifer Hann Michelle Janssen Anonymous The Anstee's Ben, Gretch And Clan Karen Steen Trish Mathew Em Patterson Debbie Lenon-mccartney Jack And Anna Scalora Tony Scalora's Kk Tony Scalora's Kk Trav Ledwidge Tara O'connor Leigh Redfern Nicole Ashby Kel Pell Jane Millard Annette Exell Hilary Bottcher Cam Taylor Marcus Scalora Margaret Hand Joe Costanzo Sandy Crothers Anonymous Grace West Kathryn Gundry Jill Abe Bernadette Sporn Sandra Cameron Maree O'connor Serena Barker Ebony Maltby Claire Sexton Tara Cummins Tan Russell Caitlyn, Tim, Declan & Tessa Bubb Hollie Webster Hayley Mills Donna Freeman The Boz Family Andie And Sam Muscatello Danielle Cameron Adelr Henderson Helen Mccarthy Cheryl Smith Anne Battersby Gail Davies