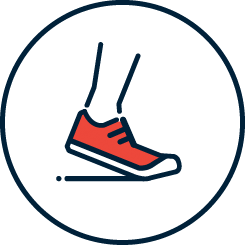 Our total team activity
87kms
We're taking part in the Stroke Foundation's Stride4Stroke to help Fight Stroke!
Sadly, 1 in 6 people will have a stroke in their lifetime.
Stroke attacks the brain- the human control centre, changing lives in an instant. The impact of stroke can be devastating for the individual and the family. But stroke's impact doesn't need to be this great, research indicates that around 80 percent of strokes are preventable.
So, we need your help to Fight Stroke. It's going to be a challenge, but it's nothing compared to those who are impacted by stroke. Please sponsor our team today to support us and together we can Fight Stroke!
I know my stroke was a bit different but the damage and recovery is the same, and if people can get help with their recovery, that's awesome! And if we can help highlight the magical quality of Nordic Walking for recovery, m lental health and sleep quality that's great!
Your donation will help the Stroke Foundation support those affected right now and fund research to help prevent stroke, save lives and enhance recovery. Thank you.
Thank you to our Sponsors Anonymous R
Kristen Pratt Anonymous Russ & Rhonda Margaret And James Wong Farah Tayba Swell & Heni O'farrell & Panca Gillian Brown Morag Mirankar Stephanie Fairlie Williams Sarah Lendon
Vivien Langford Beth Elson David Gottlieb Anna Mcnicol Fiona Murray Joanne Sharpe Kate Lp Clemency Oliphant
Kristen Pratt - Capital Nordic Walking Sofia Ericsson Jen And Carolyn Natalie Cohen Sarah Goulding Anne Lockley Aileen Anonymous Johnny And Chrissy Irene Tzavaras Reiko Take Julija Susie Nelson Christine Webster Allan& Rachael Bigg Nancy Akhurst Cath Anonymous Eryn . Mel Chui Amy Parncutt Alia Stanley Anna Harding Matthew Allison Sarah York Amanda Punch Meg Derwent Anonymous Yui Backhouse Jayne Sutton Sue Randall Selina Hughes Emily Fran Cansdell Justin Lee Pat Duggan Mj Christine Karen Roe M Anderson Snehal Sosale Jeanette Olivares Lana Palmer Jennifer Donohoe Larissa Dulat Tarps Amanda Punch Hannah Derwent