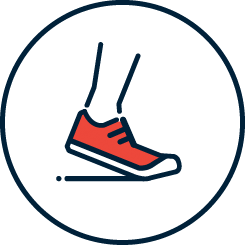 Our total team activity
603kms
We're taking part in the Stroke Foundation's Stride4Stroke to help Fight Stroke!
Sadly, 1 in 6 people will have a stroke in their lifetime.
Stroke attacks the brain- the human control centre, changing lives in an instant. The impact of stroke can be devastating for the individual and the family. But stroke's impact doesn't need to be this great, research indicates that around 80 percent of strokes are preventable.
So, we need your help to Fight Stroke. It's going to be a challenge, but it's nothing compared to those who are impacted by stroke. Please sponsor our team today to support us and together we can Fight Stroke!
Your donation will help the Stroke Foundation support those affected right now and fund research to help prevent stroke, save lives and enhance recovery. Thank you.
Thank you to our Sponsors Sue Hall Stephen Mcgowan Carol And Brendan Carland Rod Crole Anonymous Lana Naismith Melinda Crole Mack Creevey Todd Wilksch Rhonda Theodorou Meg Thunder Paul Crole Glenn Evans Paul Crole Mandy Todorov Hannah Crole Gosia & Stan Alyce Knight Anthony Moussa Fuona Smith Justin Plummer Laura Crole Melinda Crole Melinda Crole Josh Chaminda Weththasinghe
Jane De'ann Tierney Simone Naismith Sharon Rigden Ben Crole Joshua Ryan Christine Naismith Katrina Kirstie Evans
Sheryl Madsen Greg Nicolson Tash Watson Joel Costello Jody&john Toniolo Christine Tripp Jan And Daz Mastin Skewes' Peter Holmes Johnny And Amanda Anonymous Ben Crole Ben Crole Fiona Smith James C Alice Y Maureen Naismith Mat Odonnell Luke Buccheri Michael Nadalin Natalia Dusanovic Phil Metedith James Laura Drenen Sue Berry Carol Knight Simone Naismith Robyn Brewin Nicholas Morris Joey Smith Blayne And Tom Eleanor N Andrea Federico Marina Crane Brooke Mcgowan Jed Watson Chris Rudkin Laura Yvonne Davison Taylor Stanton Frazer Gatens Rebecca Rya Ella And Duncan Demi Patsalos Jayde Cuffe Jayde Cuffe Jayde Cuffe Anonymous Atlanta Demi L Leia Susan Hauber Janine Walker Jack Mighell Michael Murray Kylie Buckberry Jackie Robertson Anonymous Maxwell Haverfield Samantha Iles Patrick Collins Dina Becvinovski Sarah Ferguson Christina Low Nadia Robins Gemma Crole Angela Koukoubaras Tom Avez Ilya Katsman Demi Isy Currenti Renee Kendall Kim Bines Kim Tozer Harley Noonan Meg Tormey Will Kerton Mark Bagally Ashlea Cuffe Gary Bull Temena Riordan Brian Clifford Rebecca Giles Uncle Jonny Michelle And Leigh Hauber Linda Dehnert-rowe Emma Lane Jo Potter Alysse Carland Ned Thomsob Natalie Lynch Mac-wood Danique Crane Ben Luther's Bella Babic Alex Watson Kevin Bossen
Lizzy Judy Hodgins Elyse Nash-ferry Stephen Rondinelli Kiara Clemente Amelie Crole Monique Federico Samantha Todorov Annemarie O'connell Helen Mcpike Danielle Loughnan Nicole Petzierides Susanna Mansell Brett Eldridge Catherine Lambert Donna White Karli Mcintosh Webb Eugene Pring Sharon Clements Ellena & David Camilleri Shae Tasca Loretta Zabadeusz Tammy Brilliant Pauline Morrison Viv Burgess Bianca Parker Carly L Debbie Cuffe Victoria Thorneycroft Constance Koukounaras Monica Szkibik Tim Ryan Ben Prior Del Pearce John Carland Briony Fiona Kimpton Carlee Toniolo Ruth Carr Eden Campbell Mika Sutawan Mel Rixon Sarah Rigden Phil Matejko Lachlan Williams Emily Jane Marielle Jones Lauren Hayes