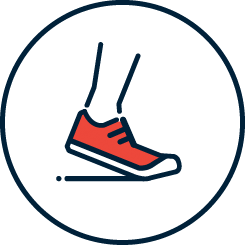 Our total team activity
1,033kms
We're taking part in the Stroke Foundation's Stride4Stroke to help Fight Stroke!
Over the last couple of years each of our fathers have suffered a stroke.  Their journeys and the impact on our families have been unique.  Through this, our fathers have taught us about the power of resilience, courage & love. 
We have been friends for almost 30 years and this November we are united as one as we stride4stroke in honour of our fathers Giuseppe, George & Larry.  We are on a mission to walk 20,000 step/day & raise $2000 as a team. 
Please help us Fight Stroke by joining our team & setting your own physical goal for the month, or you can make a small donation towards our fundraising goal. 
Your donation will help the Stroke Foundation support those affected right now and fund research to help prevent stroke, save lives and enhance recovery. Thank you for supporting our team "For Our Fathers" - Sandra, Marie & Sloane xo
Thank you to our Sponsors Anonymous Briar Hall Tim Jones Anna Mandalis Christina & Marree Anastasia & Nick Mandalis Emmet O'reilly Maria Greg & Nath Cook Mel Lum Denise Tsoutras Monica Loeffler Anonymous Craig Mcrae
Matt Anderson Joanne Donovan Danielle Goodsell Evelyn Rodrigues Lynne & Larry Melissa Driscoll Cam Ong Sandra Carbone Celestina & Giuseppe Alan Sullivan Michael Loxton Julie Naomi Carruthers Rachel Mornington-west Natalia & Andy Emma Rawlings Em Jayem Nao Dent Susan Makroglou Al & Kaz Cushnie Danielle Benedek Jess Francis Joe Rocco Dan & Lou Oxton Karol Oxton Tina Kotsabas Ben Bonanno Jon Youings Lorene Jago Alex Evans
Mellanie Pryor Vicky Zygouris Tracy Wong Kitsa Topouzakis Topouzakis Clan Maryann Harris Kranz Family Emma Stewart Kama-jade Ghosn Aphrodite Cook Elisa Laird Sarah Barras Brunnen Family Linda Harris Isabella Rawlings Rebecca Wilkinson Miranda Jones Kendy Morgan Jo Miller Linda Mumford Rebecca Muellner Nadia Stewart Nadia Stewart Nadia Stewart Sloane Sloane Sandra Carbone Sandra Carbone Kristina Jug Allison Bonanno Valda B Cheryl Andressen Wendy Grace Norden Abbey Norden