This year there are so many exciting rewards you can earn for fundraising, raising stroke awareness and Moving Minutes milestones.
We are incredibly grateful to have your support and are thrilled to be able to celebrate your hard work and committment.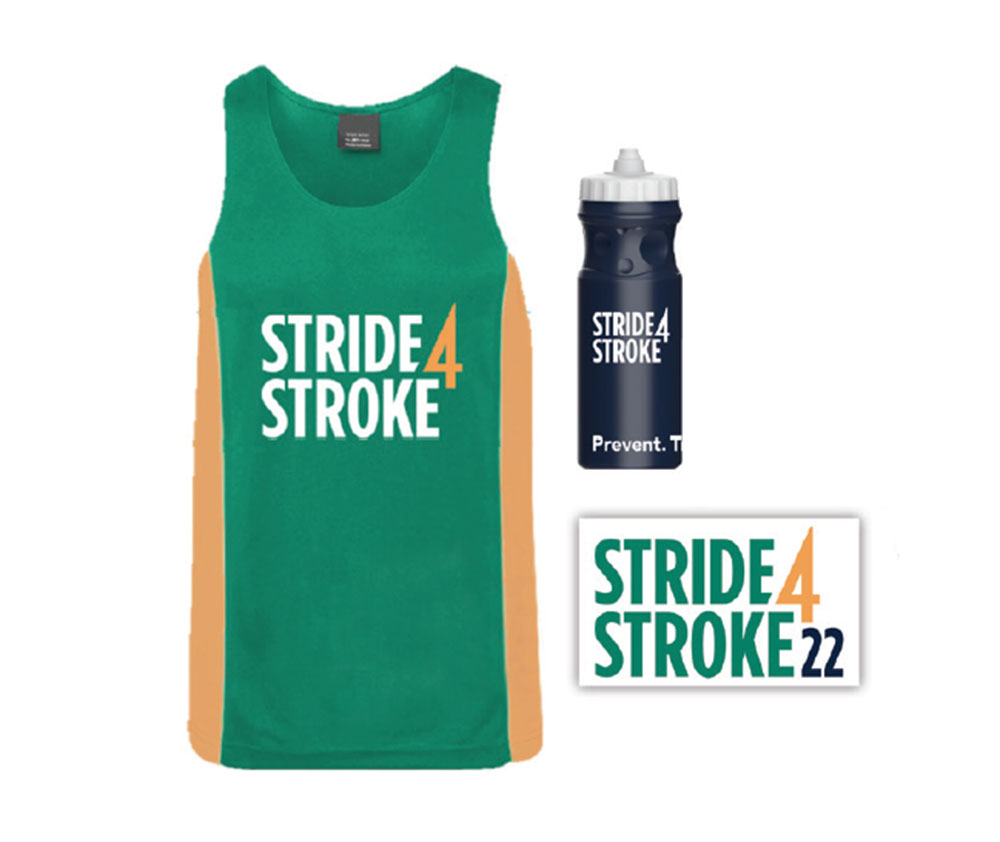 When you raise $50 on your individual fundraising page you will unlock your very own free Stride4Stroke Pack.
Included in the pack is a Stride4Stroke exercise singlet (unisex sizing, XS - XXXL), drink bottle and an iron on patch.
Please note that we will begin sending packs in the mail closer to the start of Stride4Stroke.
When you raise $500 on your individual fundraising page you will receive new and exclusive crew socks.
You will receive an email from us when you achieve this milestone!
The top 3 individual striders who log the highest amount of Moving Minutes between 1st November to 30th November will win 1 of 3 prizes from ProductLink.


Winner (Value: RRP $400)
Wireless Concert One Headphones. RRP $229.95 (Vonmahlen)
Allroundo C Charging Cable. RRP $44.95
Infinity Phone Strap. RRP $34.95
Premium PopGrip MagSafe RRP $44.95
PopMount Dash & Desk $49.95
Runners Up x2 (Value: $75)
Premium PopGrip RRP $24.95
PopMount Dash & Desk $49.95
Sign up to unlock your 4-week training plan.
When you sign up to Stride4Stroke you automatically get access to an exclusive 4-Week Training Plan crafted by Lee Carseldine!
Lee has hand crafted this plan to include a variety of exercises to inspire you to get moving and keep you challenged as you undertake your Stride4Stroke journey. Reviewed by personal trainers of FitStop Brisbane, each workout can be completed for a minimum of 30 minutes, up to 5 days a week. Better yet, you can log these workouts as part of your Moving Minutes goal!
*If you have a pre-existing injury or medical condition such as stroke, please seek medical clearance from your doctor before participating in Lee's training plan. If you're undergoing stroke rehabilitation, speak with your physiotherapist or exercise physiologist to tailor the exercises and activities to your rehabilitation goals.
Sign up to unlock your Stride4Stroke digital toolkit
When you sign up to Stride4Stroke you will unlock a digital toolkit to help kick-start your stride journey.
This toolkit includes a digital brochure, fundraising tips and resources to get you on your way!
*Please note that the toolkit will be available mid-September.
Refer a friend for your chance to win!
Refer a friend to join Stride4Stroke and both raise $50 by 11:59pm Monday 31 October, to go in to the draw to win a $250 Rebel Sport voucher.
How do you invite friends to join?
When you sign up there will be a section to invite your friends, simply put in their name and email address and they will be sent details to join.
Alternatively, when your friend signs up, there is a section to input the full name of the person who referred them to join Stride4Stroke.
Sign up for your chance to win!
If you sign up before 30 September you will automatically go into the draw to win your very own Apple Watch.
The Apple Watch has access to the latest in fitness tracking technology. It's the perfect accessory to compliment your stride journey this November.
Achieve 600 Moving Minutes.
Log 600 Moving Minutes on your dashboard for your very own limited edition Stride4Stroke cap.
Moving Minutes can be recorded from 1 November.
Be sure to log your Moving Minutes as stock is limited.